The Birmingham Bushrangers
Yep, we were officially formed in 2020, but don't hold that against us.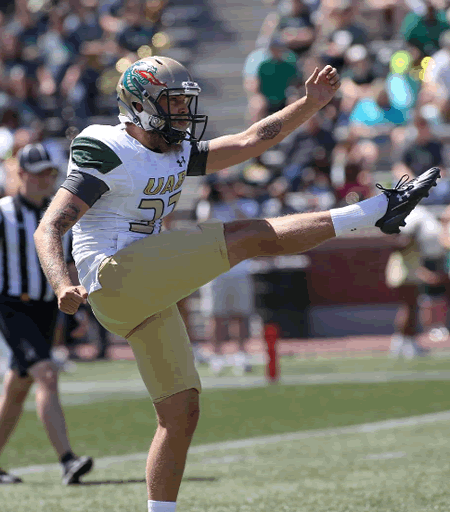 The Bushrangers were founded by expat Australian and now Birmingham permanent resident, Joel Dixon. Joel grew up in Australia before taking the opportunity to study in the US, whilst also being a punter for College Football teams.

As a sophomore for the University of Alabama at Birmingham (UAB), Joel started all 13 games in 2017. He had 65 punts for for a total 2,687 yards and an 41.3 average.

Punting or kicking, comes naturally to Aussies, as the game of Aussie Rules Football uses the skill to pass the ball around the field to teammates. The fields sometime can measure 190 yards in length and 150 yards across as an oval shape. So nearly twice the length of an American field and twice as wide too. So when Joel moved on from UAB it was maybe natural he start the first ever Australian Rules Football Club in Alabama.

The Bushrangers in 2020 recently became affliated with the USAFL, the parent league of sport here across the country. The USAFL has men's and women's teams and tour Australia with USA National Representative teams every three years for a world championship event. The Bushrangers current nearest competing teams also in the USAFL are both just across the way in Georgia, in Atlanta and Rome respectively.

The game of Aussie Rules is fast, sometimes tough, always a challenge, but always a fantastic time. Recruits to the game being 90% American, fall in love with the competitveness of the game instantly. So will you too, whether you just come down and watch, come to practice to get fitter and healthier, or try the real game experience, a full game. We are sure you will not regret any way you get involved.
PRACTICE, PRACTICE, PRACTICE
Aussie Rules Football does not take much to learn how to actually play. We try and retain possession of the ball and score by kicking the ball through the goals. To play well however and be competitive there are some skills that we must perfect, or at least continue to improve on.

Practices are friendly and open to anyone, men and women, and knowledge of the how the game is played is also passed on at every practice session. So we will continue to improve our game day knowledge, strategies and skills at all practice sessions and be ready to perform when that time comes.
you must know this to play
We are kidding,.... well maybe. ;)
Every Aussie Rules Football team has a club song they sing after they win. There is not a better feeling than coming off the field after giving your all as a team with your mates and singing you club song.